The Getaway: 12 hours in Novi Sad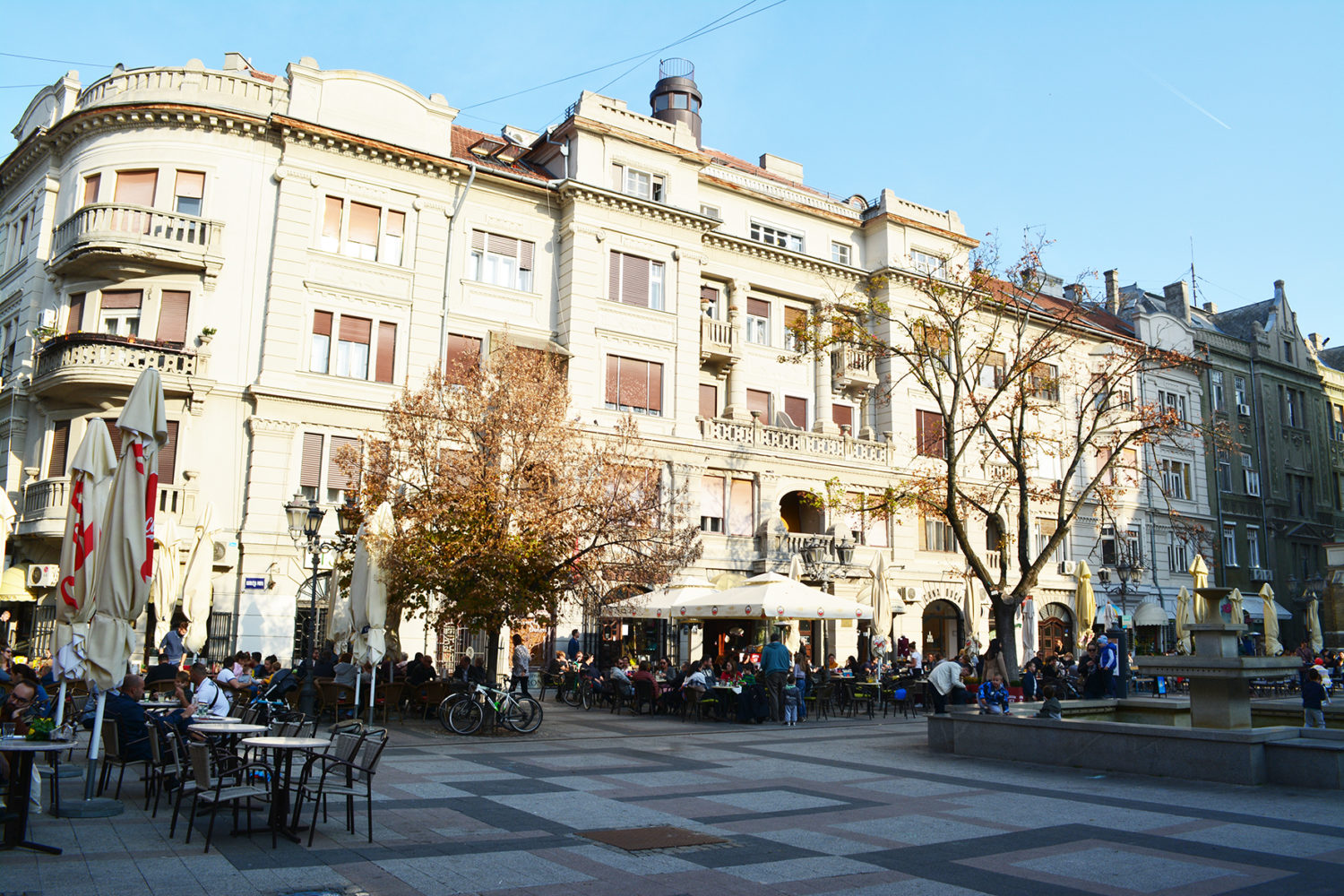 When starting this leather handcrafted journey I had very clearly in mind that I would feel the urge to escape my studio any time I could.
First because I'm not used to (co)work and (co)habit the same space,  second because I take my ideas from outside the work/home space. And, to be clear, third, I get bored of any routine because it tends to become "should", and I definitely hate "should". So I would surely need a gateway once a month!
This month's getaway? A quick one, because we decided out of the blue, last evening, when already in bed.
9 am: Breakfast with a View
Arrived early to Novi Sad (thanks to the one hour time zone difference… it was 10 am in Romania), we parked in the city center and sat down at Modena Caffe terrace, right in front of The Name of Mary Church, largest in Novi Sad (miscalled even by locals "the Cathedral", honor actually belonging to the cathedral in Subotica, Serbia), who's roof is distinctive for its incredibly colorful tiles that glint and glitter in the sun.
Apart that the café is a great spot to people-watch, you can also choose here from the various breakfast dishes. If you are a light breakfast lover as I am, add their smoothies to your must-try list; my apple, lemon and ginger one was great. And I'm sure I could have tasted some more, marveling at the colorfully-tiled church in front of us, if we have not have to see the best of the city in less than a day.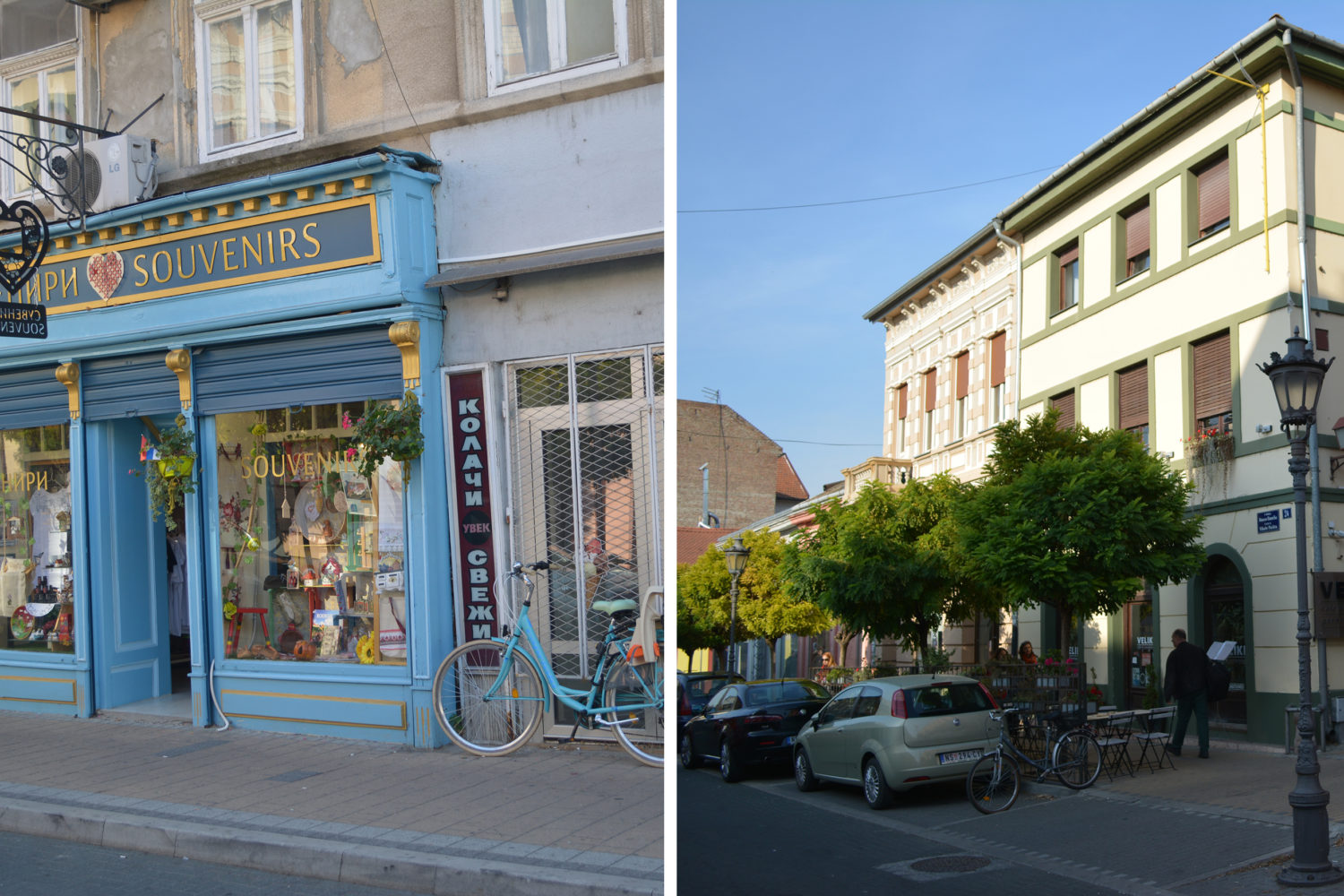 12 am: Colorful Tour
From Liberty Square, any street you take, you'll walk through surprisingly colorful buildings that host old and new local businesses in actual outfits. If you look for handcrafted leather goods, right beside the Bishops' Palace, pass the threshold of The Manual Co, a 30 year old shop that will amaze you. Just around the corner, don't hesitate to visit Casa Nova, Josephine Home Design and other small home deco stores full of ceramic pieces and other interior design items. Need a haircut? Fashionable barber shops all over the place. Interested in handcrafted contemporary wearable art? On Nikole Pašića street I've found Misha Concept Store, the most amazing place to buy little treasures, from jewelry and clothes to bags and footwear, all handmade by talented local artists. A Wonderland for the Alice in me, I can say!
3 pm: Food here, food there, food everywhere
Tired of walking? Any step you take and wherever you look, you can find an inviting terrace, restaurant, café, bistro or where you can sit any time you need. From traditional Serbian food, to international cuisine, just name it and you will be served with the proverbial Serbian hospitality. We opted for Petrus, a restaurant close to Modena Caffe, with various meals and very prompt serving.
4 pm: Petrovaradin Fortress
If you have only one day in Novi Sad, make sure you cross the Danube and come here. The fortress is one of the biggest in the region, with kilometers of underground tunnels beneath it (that I suggest you visit with a walking tour, cause you can get lost very easy and lose a lot of time finding the way back… we did it, believe me, when dark and in a hurry to get to our car and catch the Serbia-Romania border point still open) and a great view overlooking the Danube and the city center. If passionate about music festivals, this is also where the famous EXIT music festival is held each year!
5.30 pm: Dinner with a View
If you have time and want to end the day in a nice and peaceful note, have dinner at Terasa, a terrace restaurant on top of Petrovaradin Fortress, with a stunning view at the Danube and part of the city. You can opt for any of their spectacular dishes or have a drink and one (or three, for us) of their delicious cakes. This was definitely the best way we could have ended our day in Novi Sad. We left that place with the regret of not having thought to book a room in the city to enjoy a walk in the late evening lights and stay another day. We would have needed few more hours to explore the tunnels, on day light. By venturing yet into one of them, hoping to get to the car parked somewhere by the fortress, we came directly to its feet, on small and chic streets full of bars that were then opened. We had so to go back to top of it, take the known road, losing so more then 20 minutes of the time we had to reach the border point. We still did it, three minutes before closing 🙂
Things we didn't make time for, but would definitely do on another visit: Danube Park (the primary green space and the heart of Novi Sad in the summer), Fruška Gora national Park (filled with woods and hiking trails), and (one of the most interesting things to do in Novi Sad that is actually outside Novi Sad) lot of beautiful monasteries and small local wineries that can be accessed about a ten or fifteen minute drive. I've heard you can buy homemade local honey, rakija (the fruit-based moonshine popular throughout the Balkans), and local wines, often produced by the monks who live there. We will definitely come back here next summer!
What are your favorite things to do in Novi Sad? Or do you know other cities like this somewhere else in Europe that we can visit during a weekend? Tell us in the comments!